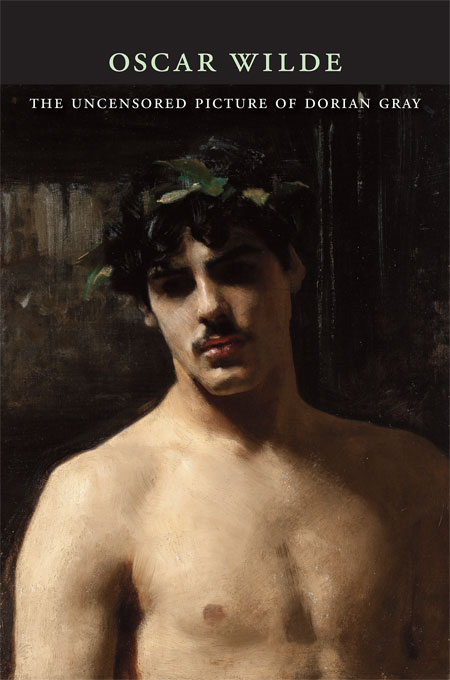 The Picture of Dorian Gray was Oscar Wilde's seminal work. And it was also the story which, in the eyes of his scandalized detractors, helped confirm the belief that older gentlemen of influence and financial means, particularly the nobility, often corrupted younger men of lower social standing by making them the targets of their "unnatural" and self-indulgent sexual vices and pleasures. The version of Dorian Gray with which most readers are familiar, however, was quite different from the original typescript submitted by Wilde to Lippincott's Monthly Magazine in 1890, which–unbeknownst to the author–editor J.M. Stoddard proceeded to heavily censor. Later, in 1891, an expanded version published by Ward, Locke, and Company was also toned down, when compared to Wilde's initial version. It took 120 years for the original typescript to be published–complete with its many thinly veiled homoerotic references–in a volume edited by Nicholas Frankel. In this edition, Wilde's original words are supplemented by two essays, providing the historical and textual context.
I have read that Oscar Wilde's writing style is unique in that even over 120 years after publication and following revolutionary socio-cultural change, his words, images and stories remain relatable to contemporary twenty-first century readers. His language and prose have aged well. To a degree, this seems an accurate observation. However, most readers today would likely understand Wilde's description of male physical beauty in sublime, indulgent and excessive terms, especially in the first chapters, for what this really is: closeted homoeroticism cloaked in the quaint and unconvincing deception that what we read is in the main an artistic, academic appreciation of the male body. There is a great deal of dancing around the elephant in the room. The lofty language used to describe the young Dorian Gray's physique and the manner in which two somewhat older gentlemen, Basil Hallward and Lord Henry, fawn over him incessantly can seem to today's reader as cumbersome. We know what is really going on and we are not scandalized by it.
What is more jarring to today's reader, however, are Dorian's casual antisemitic references (to "the horrid old Jew") and later passing remarks from the narrator to "the fat Jew Manager…beaming from ear to ear with an oily, tremulous smile." We also learn that he had "fat jeweled hands." The Jewish character in the book is dehumanized–he has no name and is portrayed as physically revolting. It is worth considering here that since so much of the narrative focuses on a celebration of male beauty, the very negative references to the physique of a minor Jewish character sets up a stark contrast. It is not just the antisemitism in itself that was startling, at least for this reader, but also how casually it formed part of the dialogue and narrative.
Where Wilde really displays his remarkable writing skills is in his beautiful, atmospheric prose. Colours, scents and textures come alive to create scenes that you can feel and smell. One brief example, where Wilde describes Lord Henry's library: "It was, in its way, a very charming room with its high panelled wainscoting of olive-stained oak, its cream-coloured frieze and ceiling of raised plaster-work, and its brick-dust felt carpet strewn with long-fringed silk Persian rugs…Some large blue china jars, filled with parrot-tulips, were ranged on the mantel shelf, and through the small leaded panes of the window streamed the apricot-coloured light of a summer's day in London…" There is such a rich array of these atmospheric passages that it's hard to choose which to share. I will share one more, just to give a better taste: "There was a silence. The evening darkened in the room. Noiselessly, and with silver feet, the shadows crept in from the garden. The colours faded wearily out of things."
What equally comes to mind with Wilde is his singular wit–and this is on full display in The Picture of Dorian Gray. Among my favourite lines is when Lord Henry notes of formal men's clothing in late nineteenth century Britain: "The costume of our day is detestable. It is so sombre, so depressing. Sin is the only colour-element left in modern life." There is also a fascinating discussion of why Dorian Gray once, fleetingly, considered becoming a Roman Catholic and why he was drawn to Catholicism. Wilde does a fine job exploring the sacramentality of Catholicism, the mysticism and the role of the senses in revelation. We read: "the daily sacrifice, more awful really than all the sacrifices of the antique world, stirred him as much by its superb rejection of the evidence of the senses as by the primitive simplicity of its elements, and the eternal pathos of the human tragedy that it sought to symbolize…"
The Picture of Dorian Gray is ultimately a story of an older gentleman of experience corrupting a man still in the embrace of youthful innocence. It's a Victorian era horror story, a "slow burner" as we might call it today, where Wilde uses his mastery of language to stimulate our senses.
Rating: 4/5