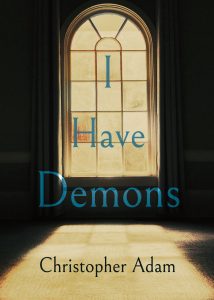 I Have Demons                                                                                 
By: Christopher Adam
Published by: Iguana Books in November 2018
(Fiction)
A jaded young priest of a dwindling parish faces a man with a terrible secret. A lonely pensioner spends a Thanksgiving she'll never forget at a local diner, served by an acerbic waitress who has finally found her ticket out of there. A recent university graduate from small-town Ontario leaves home with nothing to his name but the hope of a new life in the city and places all his trust in a charismatic yet dubious life coach.
Lyrical language, at times haunting, and moments of dry humour weave through the three novellas in this collection. Set in and around Ottawa, Ontario, these stories examine the peripheries of society. In the characters' journey toward the centre, they navigate flawed human relationships, seek to encounter a divine presence that is at once implicitly present yet dreadfully distant, and struggle to negotiate the conditions of redemption.
I Have Demons can be purchased through:
More news on I Have Demons
***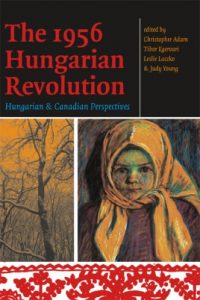 The 1956 Hungarian Revolution — Hungarian and Canadian Perspectives
Edited by: Christopher Adam, Tibor Egervari, Leslie Laczko, Judy Young
Published by: University of Ottawa Press in May 2010
(Academic non-fiction)
In October 1956, a spontaneous uprising took Hungarian Communist authorities by surprise, prompting Soviet authorities to invade the country. After a few days of violent fighting, the revolt was crushed. In the wake of the event, some 200,000 refugees left Hungary, 35,000 of whom made their way to Canada. This would be the first time Canada would accept so many refugees of a single origin, setting a precedent for later refugee initiatives. More than fifty years later, this collection focuses on the impact of the revolution in Hungary, in Canada, and around the world.
Book Chapters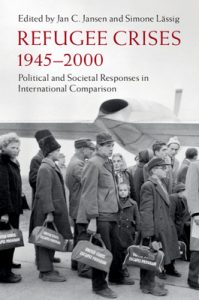 Refugee Crises 1945-2020: Political and Societal Responses in International Comparison. Eds. Jan C. Jansen and Simon Lässig), Cambridge University Press, 2020. (Academic non-fiction)
Chapter 7 by Christopher Adam: The 1956-1957 Hungarian Refugee Crisis and the Role of the Canadian Press in Opening the Doors to Asylum Seekers. Pgs. 157-180.
My chapter in this anthology, spearheaded by the German Historical Institute in Washington D.C., explores how it was first and foremost intense pressure from the Canadian press that prompted the Canadian federal government to take a leading humanitarian role in responding to the 1956/57 Hungarian refugee crisis, and welcoming more than 38,000 Hungarian fifty-sixers to Canada.