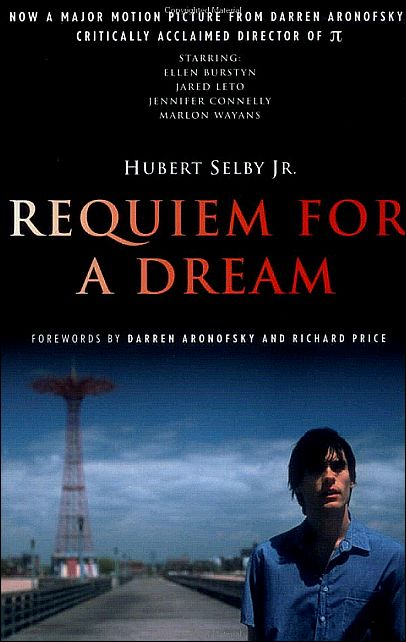 The rich internal monologues and heavily accented dialogues, giving away the socio-cultural background of these Brooklyn residents, are what make Hubert Selby Jr.'s 1978 novel Requiem for a Dream such compelling reading. The fact that all of this dialogue is fully embedded in paragraphs, one sliding into the other, and that it lacks quotation marks (as well as apostrophes), can make for challenging and slow reading. Without clear breaks and punctuation indicating where one character's voice stops and the other begins means that the reader must rely on the different speaking styles, slang and accents of the various characters to decipher who is talking.
The story opens with Sara Goldfarb, a middle-aged widow, having to yet again retrieve her television from Mr. Rabinowitz's pawn shop, after her son Harry pawned it for pocket money. It's not an exaggeration to say that the television is Sara Goldfarb's life. She lives largely abandoned by her son, in a modest Brooklyn apartment. Other than watching television, especially game shows, her joy in life comes from eating a box of chocolates in her viewing chair, enjoying a fresh bagel with cream cheese or savouring a danish. Sara Goldfarb is profoundly lonely, yet is always ready to come to the defence of her good-for-nothing son. She is a tragic figure with whom one is simply compelled to empathize. Some of her charm comes from her regular use of Yiddish words, like zophtic (as in having a nice, plump figure), ipsy pipsy (as in everything is just fine, or dandy) or the affectionate term boobala.
Some of the richest Yiddish (or Yinglish) comes from the pawn shop owner, a minor character, Mr. Rabinowitz. Speaking to Sara Goldfarb, as she comes to retrieve the television, Mr. Rabinowitz notes: "Vy dont you tell already the police so maybe they could talk to Harry and he vouldnt be stealing no more the TV, or maybe they send him somewhere for a few months he can tink and ven hes coming out hes already a good boy and takes care of you and no more all the time taking the TV?" Sara will hear nothing of the suggestion that she should have her son arrested. As she explains: "Hes the end of the line. The last of the Goldfarbs. How could I make him a criminal? They would put him with such terrible people where he could learn such terrible things. No, hes young. Hes a good boy my Harold. Hes just a little mischief. Someday he/ll meet a nice young jewish girl and make me a grandmother." Sara, of course, was in denial about her son and Mr. Rabinowitz knew it. The scene ends with one of the most memorable internal monologues, when Mr. Rabinowitz says to himself, thinking about his own wife and going home at the end of the work day: "Oi, such a life. I hope she gets home already. Im not vanting cold soup. A man my age is needingk (sic) hot food for his stomach and hot water for his feet. Oi mine feet. Ahhhhhhh…such a life. Tsouris...Tsouris…"
The story centres around Sara Goldfarb thinking that she has been chosen to be a contestant on a game show. She must lose enough weight to fit into a red dress and golden shoes–attire that her late husband loved. She is so proud and excited about the prospect of "starring" on television and the neighbours in her building, with whom she sunbathes during the day, seem fascinated too. Meanwhile her son and his girlfriend Marion dream of making enough money to open an artsy café in New York. Their plan of getting rich hinges on trafficking drugs, with the help of Harry's friend Tyrone. While Sara becomes addicted to dubious weight loss pills, Harry, Marion and Tyrone descend into drug addiction.
Selby himself struggled with addiction for much of his life. He was put on prescription painkillers after serious health problems experienced in his youth and became addicted. As such, he speaks from experience. The scenes of psychosis in his story seem authentic, gripping and disturbing. The voices of his characters are authentic and credible too. But it is Sara's voice and her story that really stayed with me the most. I was drawn most to the scenes that featured her. At first, these were sweet and light-hearted. But they, along with the powerful narrative as a whole, became gut-wrenching.
Rating: 4/5