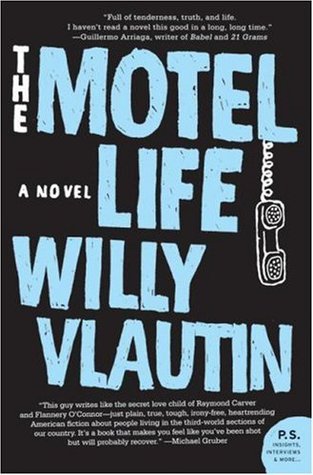 The raw language, powerful and harsh in its unadorned simplicity, matches the desolate landscape, both rural and urban, and the severeness of life for two working class brothers in Willy Vlautin's novel The Motel Life. Deep loyalty, and a promise made as teenagers to their dying mother to stick together, make Frank and Jerry Lee Flannigan inseparable, as they live in seedy motel rooms, sleep in their 1974 Dodge Fury and grapple with the profound sense of guilt following a hit-and-run that killed a teenage boy. Alcohol, the music and voices from the car radio, conversations and childhood memories, however dreary, are the ways that Jerry Lee and Frank try to escape the moral burden of what happened on that fateful and frigid winter night in Reno, Nevada. Jerry Lee had gotten into a dispute with his girlfriend, Polly Flynn, and she had set his pants on fire with lighter fluid. Jerry Lee jumped into his car intoxicated, in just his underwear, a jacket and boots, in the early and dark hours of a snowy winter morning and hit a teenage boy on a bicycle.
Frightened to call an ambulance and in a state of shock and drunkenness, he packed the boy's bloody body into his car and drove to his brother at the motel, looking for consolation and to figure out what to do. In the end the two dropped off the boy's body, his head wrapped in a blanket, on a patch of frozen grass a block away from Saint Mary's Hospital and fled the state in their car. Neither Frank nor Jerry Lee knew anything of the nameless boy who had been killed that night, but Frank, the narrator, tried to imagine who he might have been and why he had been out at that hour in Reno. The passage below is representative of how the brothers struggle with the death of a boy who had probably shared their underclass background and existence:
Maybe he had been sleeping in the warm bed of his girlfriend an hour before he died. He might have snuck out her window when he knew he had to leave. Might have been laying there next to her, and she was naked and he's about to fall asleep; maybe it was then that he made himself get up and get dressed. Maybe he heard her mom get up and use the toilet. Maybe he kissed her before he left. Maybe he got back in bed with her one last time before he made himself go for sure. I hope it was like that, and not the other way. That he was running from something, or that he had nowhere to go, or that he couldn't go home 'cause things were so bad there.

Bad luck, it falls on people every day. It's one of the only certain truths. It's always on deck, it's always just waiting.  The worst thing, the thing that scares me the most is that you never know who or when it's going to hit. But I knew then, that morning, when I saw the kid's frozen arms in the back of the car that bad luck had found my brother and me. And us, we took the bad luck and strapped it around our feet like concrete.
The brothers leave Reno and drive out into a vast, frozen and empty world, passing through Nevada, California, up to the border with Oregon, with the idea that they might escape from the consequences and from society by going to Montana. The intimacy of sleeping in their old car, with Frank on the front seats and Jerry Lee in the back, stands in stark contrast to the cold, depopulated landscape around them. This is where we read: "…the night was hard, and after a time I could hear Jerry Lee crying. It was real quiet, the way he cried, like he was whimpering. Like a sick dog might, or maybe a dying old man."
While the language in Vlautin's book reflects the raw reality of a disadvantaged life, humanity always seems to run through it. Some aspects of the novel remind me of Don Carpenter's Hard Rain Falling, but while the language and narrative in that is mostly brutal and cold, The Motel Life carries a certain warmth. There are a handful of scenes that come to mind: the one where a dying mother arranges a barbecue for her two teenage sons; or where the young Frank consoles a teenage girl who had been physically and emotionally abused at home by making up a story of how the two of them would experience a grand escape from this world to a beautiful Pacific Island; how fifteen year old Frank's employer, after he discovers that the boy's mother had recently died, buys him lunch and gives him twenty dollars to purchase a bottle of vitamins for his brother and himself. And then, of course, we have the scenes where Frank sits next to Jerry Lee's bed at Saint Mary's Hospital, where he pens a story for his sleeping brother, ensuring that when he wakes up, he'll have something other to think about than the hit-and-run.
When Frank does this, he's following the advice he received as a teenager from Earl, his boss who showed him gentleness as he grieved his mother's death. Earl said:
Seems like you're a pretty tough kid. Look, here's a piece of advice. I don't know if it's any good or not for you, you're the only one who'll know if it is. What you got to do is think about the life you want, think about it in your head. Make it a place where you want to be: a ranch, a beach house, a penthouse on the top of a skyscraper. It doesn't matter what it is, but a place you can hide out in. When things get rough, go there. And if you find a place and it quits working, just change it. Change it depending on the situation, depending on your mood. Make up a place that's good, that gives you strength, that no one can take away. Then when everybody's on your ass, or you can't stop thinking about your mom, you can go there."
Willy Vlautin, born and raised in Reno, displays a great dose of local patriotism in his hometown, even–or perhaps especially–as he weaves a narrative about its disadvantaged classes. The motels and places in Reno where much of this novel is set all exist and the author himself brings working class experience–having laboured in warehouses, painting houses and at a chemical company where he loaded trucks. As Vlautin mentions about Reno in an insightful interview published at the end of the novel: "It has the casinos and old-man bars. The town has a great underbelly. I've always been attracted to that side of life, so being born there was a serious stroke of luck."
Presently Vlautin lives in Portland, Oregon, and other than writing books, he also writes music. In fact, I bought my copy of The Motel Life directly from the author himself. He sent me by mail a signed copy of his book and threw in a couple of his CDs free of charge. When asked if he checks into casino hotels to write his fiction, which is where he has written some of his songs, Vlautin explains: "I wish I could. I just don't have enough dough to live in a decent motel full-time. Mostly I write at the local horse track here in Portland…It's a great place to write. It's like being in the library, but once in a while you can bet on horses or look around and see all the interesting guys."
In at least one way, the brothers in The Motel Life are just like the author who created them in the first place: they are people you instinctively know you'd be happy to meet up with for a drink, a dinner or a drive. And in terms of leaving a lasting impression on a reader, that's probably the best that an author can hope to achieve.