"Well hello, hello, oddly cloistered Human! How can I be of assistance?" asked the Red Cardinal in my garden this morning, as I fumbled with my camera on the balcony.
Good bird, good bird. Now just stay exactly where you are.
"I see," Red popped his head to the right and glanced at the parking lot across the way. "You do realize that I am not a dog, yes?" he added.
Garbage! I left my memory card in my laptop downstairs on the dining room table. This is no good. No good at all.
"Now it just so happens that I am quite patient really, and I'm not especially bothered by your presence. Well, at least not when you're at this entirely safe distance," said Red, but he quickly turned his attention to the black squirrel nibbling on a pine cone below him. For a moment, he became fidgety on that bare branch.
"Must you eat so quickly and with all those chewing noises?" Red glared at the squirrel. "I mean, really."
Surreptitious. That's the operative word of the morning. I slunk down the stairs to the dining room. Thank God I never tore up that sad brown wall-to-wall carpet that the previous owner put in decades ago. I was back in my bedroom in no time, one foot on the balcony, one foot inside.
"Well, this is beastly," Red shook with contempt, but in an elegant sort of way. "No, not you. It's this fiend I'm talking about." He glanced down at the squirrel nibbling away atop the recently thawed, barren flowerbed as though one could never quite count on there being a tomorrow.
Snap. He's looking down too much. Snap. Now he's turned to the right. Snap. I need a better frontal shot of his red head and red beak and those signature facial features. Snap. Got it! One more to be sure. Snap. Wait a minute, digital cameras don't go snap.
"So now…" Red stared directly at me on the balcony authoritatively as only a cardinal could. "I wouldn't want your coffee to go cold…"
"Oh, well I could always microwave it," I noted as I checked my shots on the screen. I think I've got it.
When I looked up a moment later, the tree was uninhabited, bare and still. The squirrel had more staying power. He crouched with distended belly in the centre of the flowerbed, eyeing the top of the fence furtively.
In the kitchen, the coffee was as hot as ever, waiting impatiently to be tamed by the cream.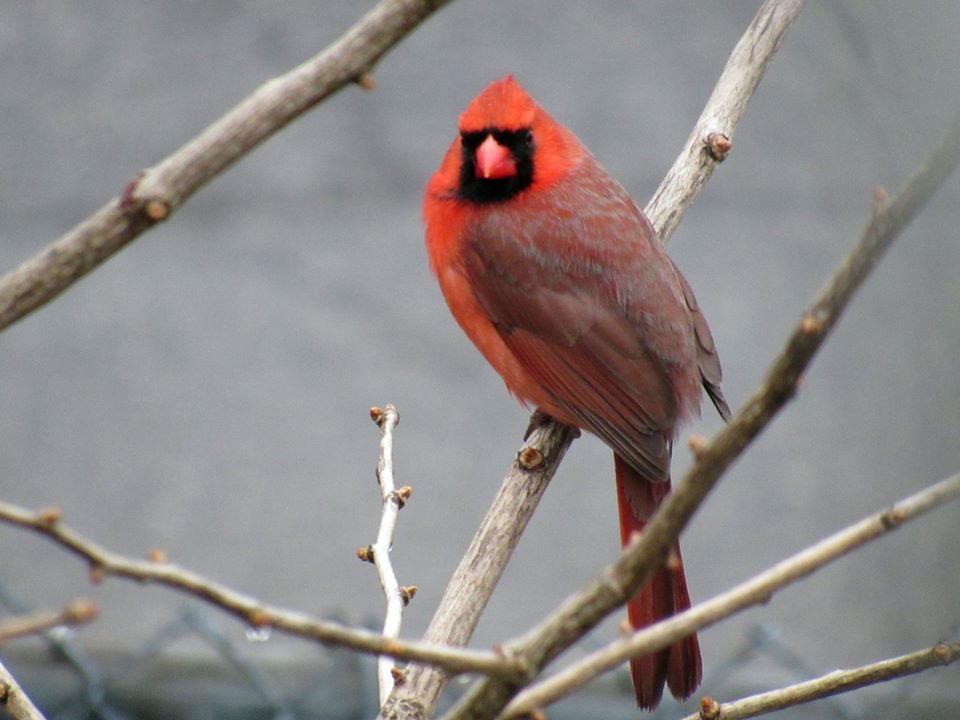 Christopher Adam