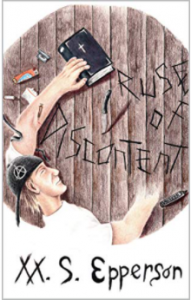 The author of this novel exploring the harsh realities of addiction is an inmate at a prison in Kentucky. With the help of friends on the outside, Matthew Epperson self-published a book presenting the tragedy of lives lost to substance abuse. One of the more striking features of a narrative dotted with gritty, uncomfortable scenes is the authentic voice that underpins the entirety of the narration. As the young Shawn Wallace's existence crumbles under the weight of his drug addiction, we witness fits of chemically-induced paranoia on the one hand and euphoria on the other, dark and false epiphanies, the terrible vulnerability inherent in homelessness, the often fleeting hopes of recovery and the impact of substance abuse on the addict's family.
Ruse of Discontent is set in Louisville, Kentucky — a city that in some ways marks the cultural border between the American north and south. Twenty year old Shawn comes from a middle-class family background. His father, Calvin, built a career in real estate — he's ambitious, staunchly capitalistic and profoundly disappointed in his son. While Calvin is emotionally distanciated from his son, and often unforgiving and harsh in his judgements, his wife Linda is gentle and compassionate. Both are devout members of a local Baptist congregation.
Shawn's journey takes us through the hot, sun-soaked streets of downtown Louisville, introducing us to the life of a busker. The gifted young man performs music on his guitar, making just enough to feed his addiction.  We also get a glimpse of life in rehab, where Shawn has a brief, unfruitful stay. The novel weaves through scenes of prostitution, violence, abuse, co-dependent relationships and the faintest embers of hope that we instinctively know are close to fading.
This novel's strength is the genuine, authentic nature of the third-person narrative voice. The scenes, whether depicting the depths of drug abuse or busking in downtown public squares, feel instinctively credible. There's book knowledge and then the knowledge of lived experience– and there's little doubt in my mind that the author of this novel often relied on the latter. The one area of the book where the use of tropes may do a disservice to the narrative is around the portrayal of a couple of characters. There is a marginal character, a teenage male described as "emo," who is an antagonist. There is also a gay man and one of his friends, both antagonists, who are portrayed in quite clichéd terms. Although this may not have been the author's intention, I noticed that difference or being perceived as different was connected to villainous portrayals.
Both the story arc and the narrative pacing in Ruse of Discontent suggest that Epperson is a gifted writer and storyteller. Self-published books can, in some circles, elicit derision. Sometimes disdain is warranted. But Epperson's novel is an example of good quality fiction published by a novice author — in this case, an author living a life that is strikingly different from that of his readership. This reader would like to encourage him to carry on writing.