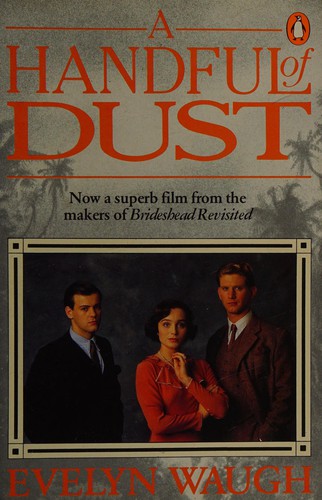 The dynamics of daily life, the intricacies of human relationships, and people with prestige or power in our communities can appear to be of unfaltering importance. Yet human existence is fundamentally evanescent and that's what Evelyn Waugh explores in his 1934 novel A Handful of Dust. We meet a group of English socialites and at the heart of this group is Lady Brenda Last — the unfaithful wife of Tony Last — and her lover, John Beaver. Brenda and Tony live in a historic mansion called Hetton Abbey. Their lives and finances are wrapped up in the costly upkeep of this neo-Gothic home that is of sentimental importance to Tony, given that it's been in his family for generations. But it's a stifling place for Brenda.
Tony retreats from modern reality by playing the part of a country squire. Meanwhile, Brenda escapes an existence she finds dull and unfulfilling by taking frequent trips to London. She claims to be studying economics and so her husband agrees that it's reasonable for her to rent a room in the city. In truth, she has struck up an affair with John Beaver — a twenty-something lounger who lives with his mother, gets up late each morning and spends his days in search of drinks at social clubs where he enjoys no credibility or in a desperate hunt for lunch invitations and free meals. Beaver is both pathetic and reprehensible.
The characters are often funny, but their conduct doesn't elicit much empathy. Most of them are delusional, shallow and nearly amoral. Several are outright frauds. John Beaver is near the top of that list, but his mother isn't far behind. She's an interior designer, landlady and shop owner always seeking new business — mostly profiting on the hardships of others. There's Jenny Abdul Akbar, a woman who claims to be a princess and describes her Moroccan husband as a descendent of the Prophet Muhammad. She's entrusted by Brenda to flirt with her husband, Tony, in order to relativize her own infidelity. Jock Grant Menzies is a parliamentarian who is clearly detached from the lives and concerns of his constituents, although he engages in window-dressing to conceal his disinterest. Lady Cockpurse is thrown into the mix to play the role of a hedonist who spends her days and nights inviting her socialite friends to an endless series of London parties. Tony Last is delusional, naive and pious, but it's somewhat refreshing that at least he's pitiable too. The most genuinely likeable character in the book is the straight-talking, inquisitive and precocious little boy John Andrew — Tony and Brenda's son.
John Andrew is at the heart of a tragic event in the first half of the book — an event that Waugh uses to reveal deeper truths about the book's adults, especially Brenda, and which then propels the rest of the narrative forward. The boy suffers a terrible accident during a day of hunting in the country around Hetton Abbey. At the time, Brenda is in London engaged in her affair with John Beaver and increasingly neglectful of her son. Tony asks Jock Grant Menzies to travel to London and inform Brenda of the accident. He still believes that Brenda is busy pursuing her studies in economics and is worried about how distraught she will be at the news. Jock finds her at yet another mindless social gathering; she's just had a foot-reading at the hands of a fortune-teller.
When Jock tells her of John's accident, she immediately presumes he's speaking of her lover, John Beaver, who is away on a trip. Over the course of some exceptionally powerful dialogue, it dawns on Brenda that Jock is talking about her son, John Andrew, as having suffered the accident:
"She frowned, not at once taking in what he was saying.
'John … John Andrew … I … oh, thank God … ' Then she burst into tears. She wept helplessly, turning round in the chair and pressing her forehead against its gilt back."
Her immediate, honest and unfiltered reaction of relief is to say "Oh, thank God" at the news that it's her little boy who had suffered the accident, not her lover. It's a staggering response from a mother and it speaks to the skill and perhaps courage of the author that this scene could be sketched so well. Rather than only seeing Brenda's all-consuming selfishness and failure as a mother, what we actually see is her horrible and instinctive initial response ("oh, thank God") followed so effectively by how she breaks down, as the implications of what happened dawn on her.
What we really see is how tragedy forces a room full of grown-ups who behave like unserious, spoiled children interested in nothing but play finally facing the prospect of growing up — at least for a moment. Waugh's language is economical, yet he paints that scene in rich colours:
"She sat down on a hard little Empire chair against the wall, perfectly still with her hands folded in her lap, like a small well brought-up child introduced into a room full of grown-ups."
Brenda, as maddeningly unscrupulous as she has been throughout the novel, is shown here to be vulnerable. We can empathize with her briefly, despite everything. The reaction of other adults to the accident is noteworthy too. They seem more concerned with reassuring each other that it wasn't anybody's fault than expressing any real concern or sorrow.
Waugh's effective economy of language — one that paints a vivid picture with relatively few words — extends to other parts of the book too. In one scene, when Brenda is still at Hetton, we see her descending the house's grand staircase as the November sunlight streams in. She descends "step by step through alternations of dusk and rainbow." Much later in the book, when Tony travels to Brazil and embarks on an expedition through rainforests with a man called Dr. Messinger, we read this remarkable description of their journey.
"…the river was broad and smooth; a dark surface which reflected in fine detail the walls of forest on either side, towering up from the undergrowth to their blossoming crowns a hundred or more feet above them. Sometimes they came to a stretch of water scattered with fallen petals and floated among them, moving scarcely less slowly than they, as though resting in a flowering meadow."
That language is more reminiscent of Brideshead Revisited, but this novel is ultimately much closer in style and substance to his other satirical works, especially Vile Bodies and The Loved One.
The aristocrats and socialites of this story may have been the source of gossipy tabloid pieces and chatter around London. They may have been seen as intriguing, influential and powerful. But the London of today bears little resemblance to the London of the interwar period — even though we certainly do have our own celebrity and "influencer" culture. The homes, social clubs and social circles of A Handful of Dust are all gone. The characters are all long dead and there's almost nobody alive today who would remember that era and social scene in London. The world once revolved around them — or so they thought. Yet by now, the world has forgotten all about them. As the decades passed, even the last fragments of memory that attested to their existence were scattered. All these once important and self-important people — they're really nothing more than a handful of dust.