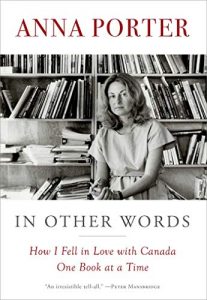 When I'm struck by the work of an author, I'm inclined to learn more about their life. My interest is only heightened by the sense of mystery that surrounds the generations of authors writing before social media — when there wasn't the same pressure to disclose everything, to opine on all subjects and to talk as much about the author, as about their work. Editor and publisher Anna Porter, originally Szigethy Anna from Hungary, offers a conversational, intimate and at times quite funny "who's who" of Canadian writing in her memoir In Other Words — How I Fell in Love with Canada One Book at a Time. And the common thread that weaves through so many of the stories and personalities in this book is the eccentric publisher Jack McClelland — singularly driven to showcase Canadian authors and to convince anyone who might listen that this country had something unique and valuable to share.
In Other Words gave me insight into the personalities of some of Canada's most iconic authors. For instance, Margaret Atwood had (and perhaps still has) a penchant for palm readings and tarot cards. She once offered to tell Porter her fortune. As it turns out, she's also a talented pastry chef. Porter first met her in 1969, soon after arriving in Canada, after Atwood's manuscript of the novel The Edible Woman had been lost for two years in a drawer at the tumultuous offices of McClelland and Stewart. Atwood wasn't too pleased. As the firm's managing editor, Porter was dispatched to manage the displeasure. In person, Atwood came across as gentle, often smiling, and seemed genuinely interested in learning about Porter.
Porter's description of Margaret Laurence as being shy, empathetic and having a fierce sense of morality didn't surprise me. It's exactly the impression I got years ago after watching the lyrical 1978 National Film Board of Canada documentary Margaret Laurence — The First Lady of Manawaka, and a shorter NFB piece from 1985 entitled A Writer in the Nuclear Age. In both pieces, Laurence's compassion and sense of justice elicits a fiery, passionate response when she witnesses injustice. She's furious when a group of Fundamentalist Christians moves to get her book The Diviners banned from Ontario schools, even though it's evident from her work that she has a clear and strong moral compass — while not being afraid to acknowledge and present that evil exists in the world. I learned from Porter that Laurence appreciated the books of Graham Greene — the British twentieth century author who so often drew from the wells of conscience, moral dilemma and grace.
Porter's book is sprinkled with rich anecdotes that illuminate the personalities of iconic Canadian authors. Margaret Laurence, for instance, was so anxious and shy when it came to appearing in public that she once asked Porter's young daughter Catherine to accompany her on stage with the balloon she held in her hand. In another instance, Porter pulled some liquor from her purse to soothe Laurence's nerves. When writing about Irving Layton, born Israel Pincu Lazarovitch in Romania, we learn something rather personal about his birth. "He maintained that, just like the Messiah, he was born circumcised…Jews came from far and wide to the tiny town of Târgu Neamț to witness the miracle of little Israel Pincu Lazarovitch's penis," writes Porter. On a more serious and tender note, Irving mentored Leonard Cohen — he "used to talk about Leonard Cohen with the pride of a father in the achievements of his own son."
Perhaps my favourite anecdote from In Other Words is the retelling of how McClelland sought to promote Sylvia Fraser's book, The Emperor's Virgin, in March 1980. Porter recounts: "Jack and Sylvia donned togas with gold-leaf crowns and attempted to ride in a kind of gilded chariot drawn by two surprised horses down Yonge Street to the launch party, where she was to be attended by scantily clad young men posing as slaves. Jack was in his element as the emperor, but Sylvia was supremely uncomfortable and exceptionally cold." In the end, a snowstorm complicated matters quite considerably.
With McClelland's larger-than-life figure looming over it, the backrooms of Canadian publishing in the seventies and early eighties focused on cultivating relationships between authors, publishers and editors. Cigarette smoke hung in the air, tobacco stained many fingers and a bottle of vodka or some other spirit was never too far away. Publishers and editors knew their authors not only professionally, but also personally. Some of the personal stories in Porter's book show the depth of these relationships. After Margaret Laurence had been diagnosed with incurable cancer in late 1986, Porter and McClelland drove up from Toronto to Lakefield to visit for the last time. Along the way, McClelland sat in the passenger seat drinking vodka and reflecting on the financial challenges of book publishing. Porter describes this final encounter with Laurence beautifully:
Margaret was welcoming as always, delighted to see us. We sat at her table, talking and drinking till late into the evening. Wanting to give them privacy, I came and went, looking at framed photographs, some taken by her son David, whose talents she was so keen to extol. It was a clear, shadowless day even with the sad winter trees in the gathering dusk and her small plants by the window that caught what was left of the sun…We all embraced and no one cried when we left. I kept my tears in check till we were back in the car. Jack was a long way from sober and keen to stop for another drink to dull his pain — the vodka was finished. He urged me to drive to Port Hope because Farley [Mowat] could always be counted on to have some liquor. The Mowats' house was dark, as one might expect at 1 a.m. but Jack was not about to give up. He threw stones at Farley's window, the one in his separate study, facing the garden, until Farley opened it and shouted something obscene to discourage kids. Not being a kid, Jack was delighted. Jack and Farley stayed up and drank most of the night.
Porter's memoir exudes an energy characteristic of people who saw themselves as part of a nation-building project. When editors like Porter joined McClelland & Stewart, they weren't being invited to become part of a vaunted literary or cultural establishment. Receiving an invitation like that can be exhilarating in an entirely different way. They were being invited on a mission. Nobody quite knew where the dusty, uneven road would lead, but the belief that they were building something of value fuelled them along the way. Theirs was a vocation, not a job and there's something decidedly vocational in how Porter reflects on this work.
At the start of Porter's literary career in Canada, there was no "canon" of Canadian literature, there were few literary agents and Canada was only beginning to come into its own, as a nation. Expo 67 put Canada on the map internationally, while the Royal Commission on Bilingualism and Biculturalism (1936-69) began to define a Canadian national identity, seeking input from not only English and French communities, but from linguistic minorities too. The Commission ultimately defined Canada as bilingual and multicultural. As a nation, Canada was a work-in-progress in the sixties and seventies. A not insignificant chunk of that nation-building work took place in the chaotic editorial offices of McClelland & Stewart, and at Jack McClelland's eccentric public appearances, where he sought to entice Canadians into buying Canadian books. In Other Words takes us behind the scenes — into the messy offices of that project, and even into the riverside cottages ( or "shacks") of authors like Margaret Laurence.
While In Other Words has an energy to it, it's also a cosy read. That might be a peculiar adjective to use, but it fits. The nascent world of Canadian publishing was a small one. Porter introduces us to the personal relationships, the lunches, dinners and drinks that helped transform manuscripts into some of Canada's most iconic books. Porter shows the world of publishing to be one that is highly relational.
Porter's portrayal of McCelland is of a dogged man who lifted up the fortunes of Canadian authors — creating a national canon of literature — at significant personal cost. This story isn't a victory march. McCelland took up millions of dollars in loans to fund the venture in which he believed so firmly. He invested in authors and took risks in ways that most publishers wouldn't today. M&S published Conrad Black's biography on Québec premier Maurice Duplessis, which was an edited version of his master's thesis. Black was still a young man in his thirties, and although an ambitious entrepreneur who had recently purchased The Sherbrooke Record newspaper, he was a novice author. As a genre, the biography (and the autobiography) can be notoriously difficult to sell. And in the case of Black, we're talking about a voluminous work of graduate research; even the "slimmed down" version that made it through editing was some 700 pages. All of this isn't usually a recipe for a book to earn out its advance. Yet McClelland not only published it, but invested upfront in its success — despite the fact that the pro-American Black rubbed him the wrong way. Ultimately, it paid off: the book became a bestseller in Québec and sold well in English Canada too.
Black was just thirty-seven when Peter Newman wrote a biography on him in 1982, publishing with M&S. The book launch, organised on a passenger ferry in the Toronto harbour, was a place of free flowing alcohol. "A couple of over-refreshed media members jumped or fell overboard," writes Porter. It was a lavish party by the standards of today's book launches. By that time, McClelland was $3 million in debt.
Book publishing was and is a notoriously difficult business. While McClelland did a great service to Canadian nation-building, he would also sink further into debt. In the late seventies, Porter worked for $10,000 a year — which was about thirty percent less than male employees at M&S, including in less senior roles. McClelland wouldn't contemplate a raise, although he mostly hired women because, according to his reasoning, "women are generally more efficient."
By 1977, Porter worked ten to twelve hour days, overseeing as editor-in-chief the publication of some 100 books each year, as well as working on the new mass market paperback joint venture of M&S and the American publisher Bantam called Seal books. When her second daughter Julia was born, the work schedule became untenable. Her new-born daughter spent some time in a portable bassinet under McClelland's office window while she presented at meetings. Porter writes about pumping breast milk in the women's washrooms of office towers. Her husband, Julian Porter, also worked long days as a prominent lawyer. But when he was home, he could be found "picking his way through the debris of (her) work life" — unanswered mail and piles of manuscripts to read.
After a brief break, Porter shifted to working exclusively for Seal — and much more manageable hours. Seal focused on selling many units of commercial fiction as affordable paperbacks. In 1980, somewhere on a Nile cruise, amidst the remnants of the pharaohs, Porter decided that she needed something more life-giving than that. She writes: "There is nothing quite like walking through the ruins of an ancient civilization, in some ways not unlike our own, to put your life into perspective… On this floating hotel, out of my ordinary existence, I was drawn back into the appeal of stories…I knew I wanted to be back in publishing…the way Jack had first taught me…where you publish authors, not just books, and certainly not 'units,' as the Bantam boys used to refer to books at sales conferences."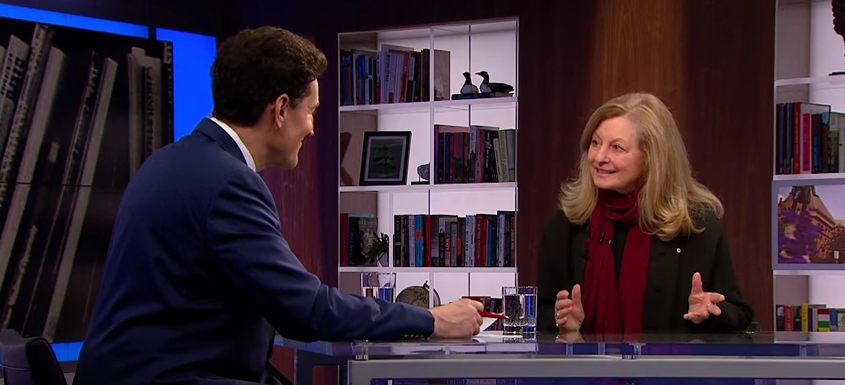 In 1982, partnering with magazine publishing magnate Michael de Pencier, Porter established Key Porter Books. She agreed with McClelland that she wouldn't pick off his authors and for the first years at least, she wouldn't publish fiction. Key Porter's niche became Canadian political storytelling and literary non-fiction. Their first published book, Malice in Blunderland: or How the Grits Stole Christmas by columnist Allan Fotheringham, became a bestseller. Fotheringham was an astute and fierce observer of Canadian politics, and of the country's politicians. Prime Minister Jean Chrétien dubbed him Mr. Fuckingham.
Fate was such that Chrétien would soon join the so-called Mr. Fuckingham at Key Porter. His first memoir, Straight from the Heart, was published by Key Porter. It sold 200,000 copies in French and half that in English. By today's standards for autobiographies, those are staggering numbers, and they were good in the eighties too for a former government minister.
We also learn from In Other Words that former Prime Minister Joe Clark worked on his book, A Nation Too Good to Lose, in an office next door to Porter's on The Esplanade in Toronto. Porter recounts how Clark often went out to grab a sandwich for lunch at a shop in the area and had Key Porter staff accompany him. Once the clerk behind the lunch counter noted how he looked an awful lot like Joe Clark, the former Prime minister. "I know, it's a burden I have to bear," he responded.
Porter was expanding her portfolio of publishing companies in the mid-eighties. She bought a controlling share in Doubleday Canada and soon after, in 1987, McClelland's fifty-one percent stake in Seal. Two years earlier McClelland's untenable finances has forced him to sell M&S to property developer Avie Bennett. It was a fraught relationship. Ultimately, juggling Key Porter, Doubleday Canada and Seal proved to be too much.
Beginning in the late eighties and then intensifying in the last two decades, Porter explored her Hungarian roots in ways that she hadn't in those years when she found a home in burgeoning Canadian cultural nationalism. She had experienced what just about anyone today would recognise as a traumatic childhood. This included getting jailed and interrogated by communist authorities as a young child. Two of her novels from the eighties, Hidden Agenda and Mortal Sins, had Hungarian characters. And then in 1989 her seventeen year old daughter Catherine began to show an interest in her mother's Hungarian heritage for the first time. She decided to attend the Helicon Ball in Toronto as a debutante — a nostalgic, ornamental and unabashedly anachronistic celebration that sought to resurrect a more glamorous Hungarian elite culture. It stood in stark and deliberate contrast to the drabness of the People's Republic of Hungary, which hoped to erase precisely this sort of affair and class-infused glamour. Montreal, where Canada's second largest Hungarian community lived, offered the same type of event, the St. Stephen's Ball, only it was believed to be even more ritzy than the Toronto rendition and probably attracted more Hungarians claiming various aristocratic titles.
Porter's Hungarian roots left their mark on her writing in more explicit ways as the years went on. In 2006, The Storyteller: A Memoir of Secrets, Magic and Lies was a reflection on her grandfather, Vili — an adept storyteller, a Hungarian anti-communist patriot and a formative presence in her life as she was growing up. Later she wrote a book on the Holocaust in Hungary, and journalist Rezső Kasztner who saved thousands of Jews, including the Hungarian Canadian entrepreneur Peter Munk. And also in the last two decades Porter returned to East Central Europe, including to Hungary, to explore how the ghosts of the past have left a stamp on the present in this region. In Hungary, she interviewed then Prime Minister Ferenc Gyurcsány. She published The Ghosts of Europe in 2010 through Canadian publisher Douglas & McIntyre. Porter was friends for many years with another Hungarian writer in Canada — the outspoken, libertarian-conservative George Jonas. They often met at what was once a fabled Hungarian haunt in Toronto — the Coffee Mill. It attracted the non-Hungarian literati as well.
Although Key Porter is described as a "nationalistic" publisher, nationalism doesn't mean a whitewashing of Canada's history. Porter partnered with Malcolm Lester to launch Lester Publishing in 1992. Harold Troper's None is Too Many — a scholarly work that documented Canada's shameful track record in turning away European Jews seeking to escape persecution — was reissued in 1997.  Key Porter also published Basil Johnston's Indian School Days in 1995, a memoir of the author's childhood at the Spanish Indian Residential School in northern Ontario, where he and other Indigenous children suffered torments at the hands of Jesuit priests. Porter first met Johnston in 1975. He taught her some Anishinaabe words and was interested in her Hungarian heritage. Canadian nationalism shouldn't mean a denial of historic injustices, although it often did — even among those who otherwise advocated in the sixties, seventies and eighties for a just society and an inclusive Canadian identity.
I was first introduced to Indigenous authors at the same time that I was first exposed to Canadian literature in general — at Concordia University in 1999, when I was an 18 year old undergraduate student taking courses offered by Professor Laura Groening. I took several classes with her in my undergraduate years. She was passionate, yet gentle; passionate in how she taught students who often knew so little about Canadian authors, but gentle whenever faced with our ignorance. And she still typed assignments and exam questions on a typewriter. When Johnston came up near the end of Porter's book, the name immediately rang a bell. I walked over to the bookcase in my living room and found the edition of Indian School Days published by Key Porter that Professor Groening had assigned for us over twenty years ago.
Much has changed in the world of book publishing in the first two decades of the twenty-first century, while some things have stayed the same. M&S is now an imprint of one of the world's Big Five publishers, Penguin Random House. Key Porter Books is gone and the book clubs of the eighties, with a worldwide membership of 25 million, is mostly relegated to the past as well. The emergence of the superstore bookseller Chapters began to cause misery for Canadian publishers like Key Porter in the late nineties. Some of this is covered near the end of In Other Words. And the fairly sizeable book advances mentioned by Porter ($50,000+ for books that would struggle to earn out today) are much less common. As well, publishers today are also more frugal in how much they invest in a book's publicity, especially if it's by an emerging or debut author. The big publicity dollars are reserved for a company's biggest names. In the last twenty years, print-on-demand is changing publishing, Amazon is giving even the likes of Chapters Indigo a run for their money, and the perception of self-publishing is shifting too.
But there are many aspects of this animated history of Canadian book publishing that still define the industry today. Having a solid backlist of books that continues to generate revenue for years is crucial for publishers. This is what allows publishers to take risks publishing authors and books that never earn out. And according to one statistic that I saw from around when McClelland died in 2004: publishers lose money on 40 to 50 percent of their books.
Anna Porter is a storyteller and In Other Words is a testimony to her gift. Her style is conversational, there is a clear narrative arc, plenty of self-deprecation and sharp, even granular observation of others around her that is more the bailiwick of a novelist than just a chronicler. At the same time, In Other Words is both a business history, as well as a cultural history of late twentieth century Canada. Publishing is, after all, a business — and a tough one at that. This story speaks of the business and personal sacrifices that went into finding and amplifying a distinct Canadian voice in publishing. Porter's book shows the human face of what is often a cut throat and difficult business.